Book your dog in for a day of pampering at Paws A Bit's all
natural day s'paw'.
Your dog becomes our family when they
come to our salon.
Play-care available during wait time. Please inform us of any allergies as complimentary treats and fresh water are always available.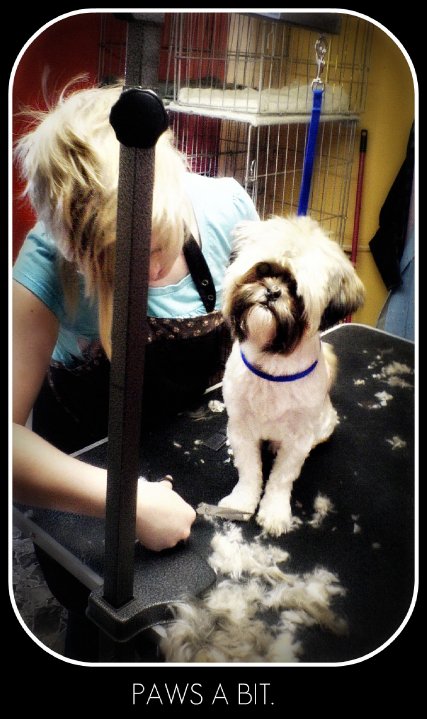 Mani/Paw'di WALK-INS AVAILABLE
MOST Tuesdays through Saturdays 10am-2pm.
No appointment necessary as long as our stylist is in!
Salon Menu
(for Dog's Only)

Salon Special: includes mani/pawdi, shampoo and conditioner, massage, blow-dry, brush and comb out, sanitary trim, cut and style*, and a bandana or bows. Call
to book an appointment with your pet stylist.
Small(under 25lbs): $45-65 Medium(25lbs-60lbs): $50-75 Large(60lbs-95lbs): $60-85 X-Large(over 95lbs): $75+
Mani/Pawdi: includes nail clip, file, and paw rub as desired, trim hair between pads as required. No appointment necessary when stylist is in.
All dogs: $15 With Polish and Paw Soothing Cream: $25


Bangs and Beard Trim: Quick trim of the bangs
and beard. No appointment necessary when stylist is in.
All dogs: $15+
PLEASE NOTE:
Pet Behavior and Stress Policy – For the benefit of the pet and the stylist, we will not continue working with extremely stressed and/or aggressive dogs and may refuse service. If a pet is unusually upset, we may skip any stressful procedure or take frequent breaks. **Talk to us about special arrangements to help your pet through their issues as special time is required.**
*De-matting Policy – Excessive de-matting can be painful and dangerous for your pet. We will NOT de-matt excessive matting, it will be shaved. All pets should be thoroughly brushed on a regular basis.